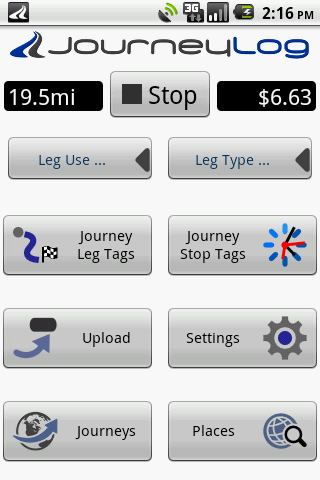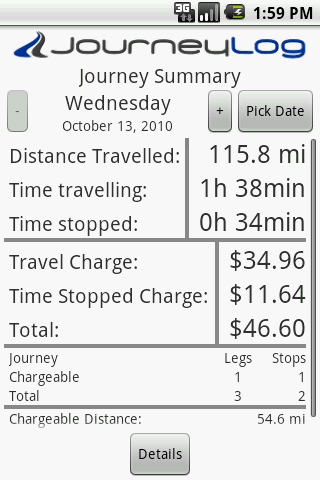 PhoneTrack is a popular free Android app for busy mobile professionals who need to record and provide evidence of their mileage to their employer, for their business or the tax man, or to manage travel costs. Used with our online secure service at journeylog.co.uk, you can say goodbye to tedious manual trip recording. Packed with features!
PhoneTrack Professional is an enhanced version with additional features, which allow you to:
manually enter and edit trips - never 'lose' a trip again
synchronise place, tag and rate changes you make either on the phone or your JourneyLog website account
To upgrade to PhoneTrack Professional, first download the free version of PhoneTrack. If you are a subscriber, the upgrade is included with your subscription, so just press Fetch licence from server when prompted, otherwise it can be purchased from the market by pressing Buy Now when prompted; this will take you to the Google Checkout, where you will be given the opportunity to confirm the purchase.
JourneyLog Website (1 month free trial) provides a secure online personal travel record (for your use only) where you can upload and view your journeys and produce expense and travel reports. Click here to register.
PhoneTrack
PhoneTrack Professional
JourneyLog Website
Journey Recording
Automatic start/stop detection
Detailed log of position, distance, speed and time
Secure online storage
Manual Entry
Enhanced journey leg and stop delete/edit
Tags and Rates
User definable journey leg and stop tags (Business/Private etc.)
Multiple user definable distance & time rates
Website synchronisation
Upload
Automatic via mobile network or WiFi
Places
Edit and view on map
Place types e.g. Customer Site/Home/Place of Work
Website synchronisation
Reports
Daily expense report
Daily travel/stop report
IRS/HMRC tax report
CSV download